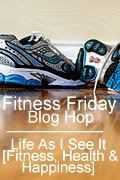 I'm jumping on this blog hop so I can share my workouts with others and I hope that I can inspire others to workout with me!
My past
. I started twirling when I was 5 years old and it stuck with me until just after high school. I was a majorette in high school and I don't mean to toot my own horn, but I was awesome! No lie. In college, I decided to do something new and I tried out for collegiate cheerleading. I was never a cheerleader but I made the team. I then later joined an All Star Cheerleading Team, Sparks All Stars and competed with them for about a year.
My present
. The said cheer gym above is where my adorable daughter is now part of the Level 1 All Star Team. I got roped into joining the parent team! Unfortunately, at the last competition of the season, I tore my
ACL in my right knee and had surgery
on May 2, 2011. This has been a very
very
long recovery and not being able to participate in anything, has almost put me in the crazy house!
I am a Turbo addict! I am a certified
Turbo Kick Instructor
and have been teaching the format for almost three and half years but had to take a break when I tore my ACL. I am now 5 months post-op and I'm still not suppose to be doing/teaching Turbo Kick but as long as I wear my knee brace, I am good. I've been released by my doctor to run/walk and do the elliptical. Boring. I am trying to get back in shape after pretty much sitting on my ass for 4 months.
Time is my excuse for not getting my workouts in. My husband is a cop and his schedule rotates constantly and he is on second shift. Which means no sitter for me but I still try to make it work.
Here are the workouts I completed this week.
Sunday
- Erie Orchard Sparks event = running around with my head cutoff. Then I had to open the cheer gym for the coaches.
Monday
- 20 minutes of elliptical. 60 minutes of Zumba!
Tuesday
- I taught Turbo Kick at CheerWorks!
Wednesday
- I did nothing besides run Aubrey around and take her to her tap class.
Thursday
- Triple Fit at Urban Iron (it's a crazy cardio and strength training class!)
Today
- I haven't decided yet.
Tomorrow
- Minute Mayhem. Followed by Absolutly Abs. Followed by Urban Iron. Followed by Zumba! (This is my calorie burning day!)
Sunday
- Turbo Kick Round 44 workshop. Then the Sparks are performing at and participating in the Walk for Alzheimers!